The Eco Stoppers specializes in the production and sale of food grade silicone products.
Our organization develops, manufactures and sells stoppers for containers and other products made of environmentally friendly materials. We create ergonomic and user-friendly products. At the request of our customers, we can promptly design, develop and produce items in large volumes.
We produce both simple products, such as conical silicone stoppers, and complex ones, as full silicone scuttle for wat shaving. Our silicone tap (Patent for invention No. 2758819) has no analogues in the world.
We can manufacture products of different sizes. For example, our plugs can cover the necks of containers from 5 mm to 210 mm.
We are constantly working on expanding our range and creating new products. Recently, we have started producing stretchable reusable caps for reusable water bottles.
The molds we have allow us to produce silicone stoppers for any oak barrels.
Our products are a
novelty

on the market.
The novelty lies in the original design, thanks to which our plugs are convenient to use.
For products that are in contact with food, we use food grade silicone from WACKER, Germany, as using well as food grade silicone from other manufacturers.
When our ECO bottles stopper, there is no change in the chemical formula of the liquid contained in it. Plugs do not collapse under the influence of vapors of chemically active liquids.
Our products can be used in various fields: winemaking and other alcohol production, in chemical laboratories, as well in everyday life. The dimensions of our typical conical plugs are maintained in the usual form factor GOST 7852-76
The initial color of raw materials and finished products is cloudy-transparent. By introducing dyes, we can create products almost any color, it does not affect environmental friendliness.
Food grade silicone material is not cheap.
We do not compete with products made of black rubber, which is sold by weight. Such material changes its chemical composition after contact with the contents of the container, sometimes coloring it yellow.
We do not compete with glass stoppers, which, are environmentally friendly, but fragile and have problems with extraction from the container.
We do not compete with natural cork products, since a good solid cork is expensive, white cheap crumb cork products are short-lived nd are not environmentally friendly, due to the use of adhesives.
We compete with other manufacturers, but we can provide you with more convenient products at a comparable price.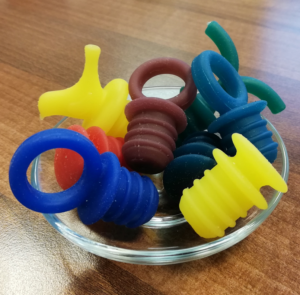 Our products do not crumble and do not tear. The elongation at break is 300%, and the tensile strength is 30 kg per cm! Our products are resistant to high and low temperatures (from minus 50 to plus 250 degrees Celsius), can be sterilized.
We can produce "habitually hard" (40 Shore units) and "soft" (15 and 25 Shore units) products. "Soft products" are unusual, but they seal the container very effectively, can fill the irregularities of the neck of the container and reliably protect against liquid leakage.
We accept orders for silicone stoppers, according to the nomenclature.  Our assortment includes silicone stoppers for necks ranging from of 5 mm to 100 mm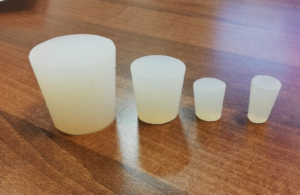 Our products are delivered across Russia, and Internationally.
We will be glad to see you as our clients.